A Shopper's Paradise
It's no secret that Seoul is known the world over as a shopper's paradise. Whether it's high fashion, tailor-made, vintage, luxury, wholesale, or traditional, there are shopping areas and markets all over the city that will suit your sensibilities. Retail therapy is a part of daily life in Seoul, and Dragon Hill Lodge is at the center of it. Be sure to check with Discover Seoul if you'd like a custom itinerary of shopping destinations. We can also help you get there and back, so you don't have to worry about carrying all those bags too far.

Market Square
Dragon Hill Lodge's very own shopping center, Market Square, is a convenient destination for shopping right where you're staying. You'll find specialty shops, a bank, business center, tailor, beauty salon, and more.
COEX Mall
Named because it contains convention centers ("CO") and exhibition halls ("EX"), COEX Mall is also the world's largest underground shopping mall. You'll find hundreds of stores, movie theaters, and COEX Aquarium. In fact, if you'd like tickets to that, our Discover Seoul desk can get you discounted admission.
AAFES
Dragon Hill Lodge also has a Shoppette where you can purchase basic items, snacks, and goods. Being situated on an Army garrison means you'll be able to access a PX for other shopping needs. Before you go to the PX, you'll need a Ration Control Plate.
Hours of Operation
Sunday–Thursday: 7 a.m. to 10 p.m.
Friday–Saturday: 7 a.m. to midnight
Insadong Street
This is Seoul's shopping destination for shops, galleries, and souvenirs ranging from cultural to kitschy. If you'd like to visit, we have tours that can take you there and back. Just let us know and we can help you plan your trip.
Myeongdong
Myeongdong used to be a favorite local haunt, but now it's a tourist hotspot, too, popular as the go-to place for skincare and cosmetic brands. There could be as many as twenty makeup stores in a single block here!
Gwangjang Market
Now here's a super retro market. Gwangjang Market first opened in 1905 and is the go-to place to experience an authentic traditional market. Try the huge variety of delicious street food, or shop for all manner of things, including geniune hanbok, lacquerware, and local fabrics!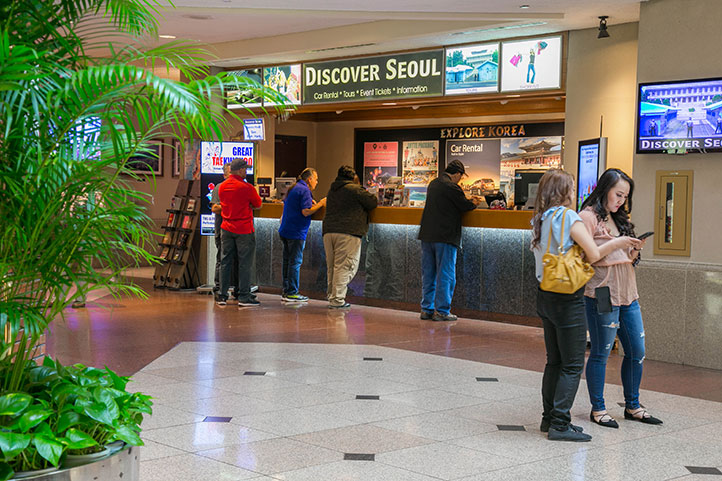 Discover Seoul
Be sure to check with our in-house travel concierge, Discover Seoul, located in the main lobby. They're enthusiastic local experts who can help you take full advantage of the all the activities, sights and culture you can soak up in Seoul. You'll be surprised at how far your budget can go, too. Email us below to help us plan a vacation you will cherish forever.
Alternatively, give us a call at DSN: 738-2222, Ext. 2 or (82-2) 6903-6286/6234 if you're calling from outside South Korea.